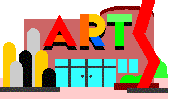 Museums
American Museum of Photography
View over 200 member museum sites
A wonderful, wonderful site
2nd largest museum in New York City—has a permanent collection of 1 ½ million items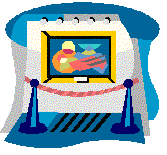 Special Exhibit—March 16 thru June 8, 2003. Magnificenza! The Medici, Michelangelo and the Art of Late Renaissance Florence.
6 buildings right in the heart of St. Petersburg. 3,000,000 items present. Covers the development of the world culture and art from the Stone Age to 20th century.
On exhibit—"Northern Visions: Art and Life of the Inuit". Plus much more.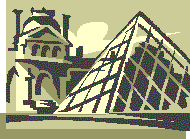 Museum and Universities Supporting Ed Enrichment Mission is to enhance cultural awareness.
Collects and exhibits Greek and Roman Antiquities, European paintings, drawings, manuscripts, sculpture and much more
International Museum of Photography and Film. Tells the story of photography and motion pictures.
The Kyoto National Museum of Japan
Features online versions of its past exhibits.
Provides highlights from each of its collections online, including digitized versions of the entire collection of over 2,000 European paintings.
Includes digitized versions of over 2,000 of the museum's works of art.
Museum of Modern Art, New York
Museum Index at World Wide Arts Resources
A guide to museums and other cultural information on the Web.
National Gallery of Art-The Collection
Houses a collection which illustrates major achievements in painting, sculpture and graphic arts from the Middle Ages to the present.
Smithsonian American Art Museum
National Museum of African Art
Presents an online version of its exhibitions on contemporary African artists, African musical instruments, Kente cloth and many other subjects.
National Museum of Wildlife Art
Site provides a searchable collection of wildlife art as well as great lesson plans which help to integrate art with other subjects such as science and writing.
National Museum of Women in the Arts
View over 250 works by women from around the world.
Greek revival building housing a huge collection of sculptures, paintings and other art objects
San Francisco Museum of Modern Art
7,500 Eastern and Western works of art spanning 5,000 years of history.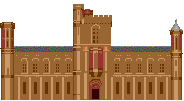 Smithsonian Photographs Online
The Thinker Fine Art Museums of San Francisco
Displays a collection of 4,000 years of ancient and European art. Search through 82,000 images
Time-Life Photo Sight Home Page
Contains over 11,000 digital reproductions of European paintings and sculptures created between the years 1150 and 1800.
General Sites
Art, Design, Architecture and Media Info-Gateway is a searchable catalog of internet resources.
Armore Gallery (Impressionists)
Art Atlas: Art Galleries of the World
This database will let you find addresses of over 5000 international art galleries.
First and foremost tool for art historical research on the internet.
**Art History Resources on the Web
A wonderful site with many many links to other sites on the Web.
**Art History Soureces on Internet
Boston College. Many links to credible web pages on-line.
Extensive information about 30,000 American Artists
Internet's largest searchable database about cartoons.
Online images from Boston College. Includes Architecture, Painting, Sculpture. 1,200+ links to art and architecture sites.
Exploring Themes in American Art
Illustrates major achievements in painting, sculpture and graphics arts from Middle Ages to Present
A partial recreation of several "Impressionist's" first exhibition in 1874
Gives site listings to various impressionists.
Site is linked to Biography.com.
Gallery of his works, biography, his machines and finally his manuscripts.
During the Great Depression and into early years of WWII, the federal government supported the arts in unprecedented ways.
Renaissance and Impressionist artist
Virtual museum and searchable database of European painting and sculpture of the gothic, Renaissance & Baroque Period. 11,000 reproductions on-line.
**Yahoo:Art History:Periods and Movements
A listing of Periods and Art Movements with links to educational sites for each category.
ARCHITECTURE
Built in America: Historic American Buildings Survey/Historic American Engineering Record
1933-Present
Covers such styles as Antebellum, Craftsman Bungalows,, Colonial Revivals, Greek Revival, Italianate, Neo-Classical, Queen Anne, Tudor Revival
Design, Architecture and Media
Architecture and Interior Design for 20th Century America
Architecture Slide Library (Berkeley)
Architectural Visual Resource Library
Click on Architecture
**Digital Archive of American Architecture
Consists of nearly 1,500 digitized images of American Architecture (280 buildings.)
**Digital Archive of European Architecture
Art historical images of sculpture and architecture from pre-historic to post-modern
Designs for an American Landscape, 1922-1932
A film by Ken Burns
**Great Buildings: A Menu of Architectural Types
Covers types of buildings, architectural styles, American and world Architecture, Timelines, Special Places, Construction Types plus much more.
Textual and visual resources available at MIT Rotech Library plus many WEB Links
Kidder Smith Images Project (Architecture of the United States)
A collection of 3400 Kodachrome slides which document ten centuries of architecture in U.S
Provides current info about the world's most prestigious architecture award and its winners.
Renaissance and Baroque Architecture
Follectio of images of architecture from that time period.
Society of Architectural Historians
Huge collection of net resources.
CERAMICS/POTTERY



About Hobbies and Games (Ceramics)

Many links to ceramics and pottery. Just type terms in search box.

American Ceramic Society: Art Links

Links to 610 web sites. Museums, galleries, exhibitions and much more.
The worlds most widely read ceramic arts magazine.

This is an experimental web site for ceramics—glaze recipes, matter analysis, health and safety and a variety of educational materials related to ceramics.

Its purpose is to encourage the growth of ceramics

A knowledge base for collectors. Aim is to include examples of work of all the major and minor potters and potteries.

Southwest's most extensive collection of traditional handmade Native American Pottery—200 pieces.

Hollister Collection of Southwestern Native American Pottery