FRESHMEN READING PROJECT—Looking for a good book to read?
                 Here are some recommendations from other freshmen.
<![if !vml]>

<![endif]>       
                                                   DOUBLE HELIX BY NANCY WERLIN
Eli has lucked into a job at Wyatt Transgenics—offered to him by Dr. Wyatt, the legendary molecular biologist.  The salary is substantial, the work is interesting, and Dr. Wyatt seems to be paying special attention to Eli.  It's almost too good to be true.
Is there a catch? 
Eli's girlfriend doesn't think so, but his father is vehemently against his taking the job and won't explain why.  Eli knows that there's some connection between Dr. Wyatt and his parents—something too painful for his father to discuss. Something to do with his mother, who is now debilitated by Huntington's disease.  As Eli continues to work at the lab, and spend time with Dr. Wyatt, he begins to uncover some disconcerting information—about himself.  (FIC WER   Mystery)
              <![if !vml]>

<![endif]>
                            BLACK MIRROR  BY NANCY WERLIN
Frances Leventhal refuses to look in the mirror; she can't bear to face her reflection. She has hidden from herself and everyone around her for such a long time, and now that her brother Daniel has committed suicide, she can't help thinking that it's somehow her fault.  If she hadn't been so caught up in her own pain, maybe she would have noticed her brother's pain.  It's time to stop hiding—to reach out to Daniel's friends at their private school.  Daniel had been deeply involved in Unity Service, the charitable group on campus, and Frances is determined to join the group and to make amends. 
But something's not quite right about Unity, and soon Frances finds herself in the middle of a puzzle to ominous to ignore.  Exactly what are the Unity members trying so hard to hide? And Why does no one else on campus, adult or teen, seem suspicious of them?  This time Frances won't scurry away to hide.  The memory of her brother is at stake.
(FIC WER   Mystery)
<![if !vml]>

<![endif]>          LOCKED INSIDE   BY NANCY WERLIN
Marnie is tremendously wealthy, and tremendously alone.  The sixteen-year-old daughter of a superstar who died years ago, Marnie refused to take part in her oppressive boarding-school community.  Nor does she have any interest in returning to Manhattan to live with her guardian, a well-meaning but stiff man named Max.  She would rather burrow away in the dark, comforting world of her favorite Internet adventure game.  Especially now that she has started chatting online with one of the other players, an intriguing rogue who calls himself the Elf.
But closing herself off from everyone around her doesn't mean that she's safe, as Marnie soon discovers.  Kidnapped, locked inside an empty basement cell, Marnie is forced to confront painful truths about herself and her famous mother as she desperately tries to escape her jailer.  Oh, how little her cyber-adventure game has prepared her for this real-life dungeon!  And how she longs for just one more battle of wits with her mischievous Elf!   (FIC WER   Mystery, Computer Games)
<![if !vml]>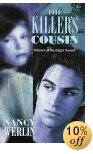 <![endif]>                KILLERS COUSIN BY NANCY WERLIN            
        Recently acquitted of murder, seventeen-year-old David has moved to Massachusetts to complete his senior year of high school.  His aunt and uncle have offered him shelter—escape from the media's questions and from the uncertain glances of his neighbors and ex-friends. 
His attic apartment doesn't feel much like a shelter, though.  He sees ghostly shadows at night, his aunt is strangely cold, and his eleven-year-old cousin, Lily, is down right hostile.  And as Lily's behavior becomes more and more threatening, David can't help wondering what ugly secrets lurk within the walls of her home. 
There is one thing that David knows with certainty.  The more he learns about his cousin Lily, the harder it is to avoid thinking about his own past.   (FIC WER Mystery)
        <![if !vml]>

<![endif]>             LEAVING FISHERS by Margaret Peterson Haddix
Dorry is unbearably lonely at her new high school—until she is welcomed by a funny, bright, and good looking group of students.  She soon learns that they all belong to a religious group, The Fishers of Men.  Flattered by their attention, Dorry attends some Fishers functions.  As she becomes more involved, she finds that she loves the joyous rapture of the religious experience, but she is worried about the ever-escalating demands the group makes of her. 
Not wanting to lose her only friends or burn in hell for disobeying the group's commandments, Dorry follows the edicts set for her, each more extreme than the one before.  She compromises her schoolwork, her free time, and even her family's love to remain in the good graces of her friends and their faith, until a final outrageous act forces her to step back and examine her own values.    (FIC HAD)
  <![if !vml]>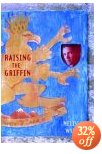 <![endif]>         Raising the Griffin by Melissa Wyatt
Alex Varenhoff's family was once the kings of Rovenia.  But Rovenia tossed out the Varenhoff dynasty long ago, when the Communists took over.  Alex is just an upper-class British teenager.  When Rovenia finds itself in need of the leadership of a king and royal family, Alex is forced to leave England and assume his role in Rovenia as—prince?
Alex is thrust into a life he was never raised for.  He hates the pomp and circumstance, and the hordes of screaming girls who wait everywhere.  He longs to go back to his old life, to his friends, and to school. And this new life is dangerous, for there are Rovenians who oppose the monarchy.  Becoming a true prince presents Alex with a heartbreaking challenge for beyond anything he ever expected.   (FIC WAY   Historical)
<![if !vml]>
<![endif]>             Amaryllis   by Craig Crist-Evans
It was the name of the ship that ran aground on Singer Island, Florida, during a hurricane in 1965.  For three years, its hulk jutted out into the Atlantic, creating perfect sets of waves.  It became a battle cry for Jimmy Staples and his older brother, Frank—and a code word for going surfing together.  But now that Frank is off battling the enemy (as well as his own demons) in Vietnam, and Jimmy is left to deal with the repercussions at home, "Amaryllis" takes on an ominous new meaning—as a symbol of what happens when life places the unexpected in our paths.  (FIC CRI   War)
               MY FATHER HAD A DAUGHTER: JUDITH SHAKESPEARE'S TALE
                                             By Grace Tiffany 
Growing up in Stratford-upon-Avon, Judith and her twin brother, Hamnet, see little of their father.  His visits are infrequent, and they know him only as "the scribbling one".  Bit by bit, however, he begins to share with them his poetry of star-crossed lovers, a jailed English king, a murderous moneylender, and a fairy queen.  By the edge of the River Avon, the twins devise games based on their father's wondrous poetry to entertain each other whenever he is away. 
Then, after a dark family tragedy, young Judith happens on a scrap copy of her father's newest play, left behind in his haste to return to London.  She reads it, and is shocked to find it a comic treatment of her family's grief, especially her own.  Outraged, she follows her father to London with an audacious plan:  to sabotage the play's first performance.  But the city is a revelation to her, as is her father's world of the theater, and his new playhouse, the Globe.     (FIC TIF   Historical)
                                          Secret Sacrament by Sherryl Jordan
The Navoran Empire is wealthy, powerful—and slowly falling under the sway of the Empress's corrupt and sinister adviser.  The Shinali nation has been reduced to a single clan on a small strip of land.  They cling to their traditional ways, awaiting a hero out of legend. 
All Gabriel Eshban Vala has ever wanted is to be a healer.  It has been this way since his seventh year, when he witnessed a brutal act he was helpless to stop.  But he never forgot the eyes of the dying Shinali woman who asked him for help.  From that day forward, Gabriel withstood the demands of his father, his family, and even his Empress in order to pursue his dreams of healing the sick.  So what could an ancient prophecy foretelling his powerful nation's downfall have to do with him?
When a chance meeting on a lonely plain brings him into the land of the Shinali, Gabriel develops a deep respect for these people and grows more and more disenchanted with his place among the powerful rulers of the Navoran Empire.  Now, caught between loyalty to his Navoran roots and love for the Shinali people, Gabriel must make a single choice.  The fate of two nations hangs in the balance.  And so does Gabriel's own life. 
   (FIC JOR    Fantasy)
          <![if !vml]>

<![endif]>         MONSTER BY WALTER DEAN MYERS
FADE IN:  INTERIOR:  Early morning in CELL BLOCK D, MANHATTAN
DETENTION CENTER.
           STEVE (Voice-Over)
Sometimes I feel like I have walked into the middle of a movie.  Maybe I can make my
own movie.  The film will be the story of my life.  No, not my life, but of this
experience.  I'll call it what the lady prosecutor called me…MONSTER.
              Steve is 16 years old, on trial for murder and facing the death penalty.
     (FIC MYE   Courtroom drama)
<![if !vml]>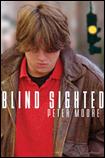 <![endif]>            BLIND SIGHTED by Peter Moore
Just when things start coming together for Kirk Tobak, it looks like everything might fall apart.  Fifteen years old, Kirk has always been a loner.  He's smart, but does badly in school.  He's funny, but never had too many friends.  But when he gets demoted into a new English class, things begin to look up:  He meets a rock-n-roll slacker, who becomes a real friend; and there's a girl who likes his writing-she might even like him.  And his new job is great:  He reads to a dynamic young blind woman who somehow makes him feel good about himself. 
And that's when the bottom falls out.  Kirk comes home one night to a note from his mom on the kitchen table.  She's gone off to California with her boyfriend, leaving Kirk alone.  Kirk is determined to stay and make it on his own, but he is juggling a lot at once, and he doesn't know how long he can last.     (FIC MOO )
       <![if !vml]>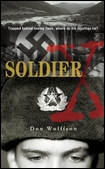 <![endif]>           SOLDIER X   by Dan Wulffson
As World War II rages, sixteen-year-old Erik Brandt finds himself on a train traveling to Russia.  He's one of the hundreds of thousands of German boys being sent to the Eastern
Front by Hitler—since no men are left to fight.  Trained as an interpreter and not a soldier, Erik manages to survive the combat, but only by slipping into a dead enemy's uniform, and posing as a wounded Russian.  Now the young German must keep up his charade.  (FIC WUL)
<![if !vml]>

<![endif]>      
                                    Girl With A Pearl Earring    by Tracy Chevalier
In seventeenth-century Delft, there's a strict social order—rich and poor, Catholic and Protestant, master and servant—and all know their place.  When Griet becomes a maid in the household of the painter Johannes Vermeer, she thinks she knows her role: housework, laundry, and the care of his six children.  She even feels able to handle his shrewd mother-in-law; his restless wife; and their jealous servant.  What no one expects is that Griet's quiet manner, quick perceptions, and fascination with her master's paintings will draw her inexorably into his world.  Their growing relationship sparks whispers; and when Vermeer paints her wearing his wife's pearl earrings, the gossip escalates into a full-blown scandal that irrevocably changes Griet's life.  (FIC CHE)
              THAT SUMMER by Sara Dessen 
For fifteen-year-old Haven, life is changing too quickly.  She's nearly six feet tall, her father is getting married, and her sister—the always perfect Ashley—is planning a wedding of her own.  Haven wishes things could just go back to the way they were.  Then an old boyfriend of Ashley's reenters the picture, and through him, Haven sees the past for what it really was, and comes to grips with the future.   (FIC DES) 
<![if !vml]>

<![endif]>
                                  KEEPING THE MOON BY Sarah Dessen
Fifteen-year-old Colie is spending the summer with her eccentric Aunt Mira while her mother travels.  Formerly chubby and still insecure, Colie has built a shell around herself.  But her summer with her aunt, her aunt's tenant Norman, and her friends at the Last Chance Diner—teaches her some important lessons about friendship and learning to love yourself.  (FIC  DES)
                       WHEN SHE WAS GOOD BY NORMA FOX MAZER
At the beginning of this startling, heartbreaking, and ultimately uplifting novel, a young woman named Pamela lies dead on the living room floor, with her younger sister, Em, wondering if she's responsible. Is she?  How did Em get to this point in her life?  How did she survive?  The answers are revealed in the direct, open, and remarkably hopeful voice of a teenage girl whose basically sunny disposition outlives some of the darkest circumstances imaginable. 
Throughout Em's life she has lived in the menacing shadow of her older sister's unstable personality.  Although sometimes funny and appreciative of Em, Pamela has wild mood swings and uncontrollable rages.  Their mother too is both mentally and physically frail, given to bouts of crying and depression.  When she dies and their alcoholic father takes up with one of his co-workers, Pamela takes charge and runs away with Em to the city nearby.  Will she be able to manage now that she's finally on her own?  (FIC MAZ)
      <![if !vml]>
<![endif]>  FARM TEAM BY WILL WEAVER
Milking, haying and planting leave Billy Baggs very little time for the thing he loves most—baseball.  So when his mother suggests building a baseball field in their cow pasture and inviting the neighbors to play, Billy is willing to give it a try.  After all, a farm team has to be better than no team…or does it? 
     With Gina Erickson in right field, Big Danny Boyer in left, and Skinner, the aging Labrador retriever, in center, the team's lineup is a joke. But who will get the last laugh when they play the big game—Billy, or his arch rival, King Kenwood?  (FIC WEA Sports)
<![if !vml]>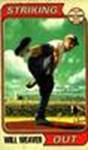 <![endif]>                             STRINKING OUT by Will Weaver
Up until now, Billy Bagg's life has been loaded with nevers.  Never been to a movie.  Never played on a baseball team.  Never got over feeling guilty for the loss of his brother.  But change is in the air.  Billy discovers he has talent for baseball, especially as a pitcher.  Maybe, just maybe, there's more in store for him than life on the farm.  But can Billy convince his father of that?  Or is he destined to spend the rest of his life pitching nothing but hay?  Billy is desperately needed on his family's struggling dairy farm, but he is also an extraordinarily gifted baseball player. (FIC WEA   Sports)
 <![if !vml]>

<![endif]>           GIVE A BOY A GUN BY TODD STRASSER
Bang!
Gunshots echo through the gym.  Two heavily armed students hold their classmates hostage at a high school dance.  Their motive:  revenge for the bullying and taunting they've been forced to endure in school for years.  (FIC STR)
<![if !vml]>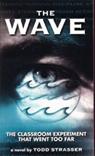 <![endif]>           THE WAVE by Todd Strasser
Based on an incident that took place in a high school history class in Palo Alto, California, in 1969.  As the students study WWII, Mr. Ross's class can't seem to understand how the German people could have followed Hitler and the Nazis.  So Mr. Ross creates an experimental movement called the wave.  What starts out in a single classroom quickly gathers momentum.  Before the end of the week, The Wave's motto, "strength through Discipline, Strength through Community, Strength through Action," governs the entire school.   (FIC STR) 
<![if !vml]>

<![endif]>
                                           Catalyst by Laurie Anderson
Meet Kate Malone—straight-A science and math geek, minister's daughter, ace long-distance runner, new girlfriend (to Mitchell "Early Decision Harvard" Pangborn III), unwilling family caretaker, and emotional avoidance champion, Kate manages her life by organizing it as logically as the periodic table.  She can handle it all-or so she thinks.  Then, things, change as suddenly as a string of chemical reactions; first, the Malone's neighbors get burned out of their own home and move in.  Kate has to share her room with her nemesis, Teri Litch, and Teri's little brother.  The days are ticking down and she is still waiting to hear from the only college she applied to:  MIT.  Kate feels that her life is spinning out of her control-and-then, something happens that truly blows it all apart.
(FIC AND) 
<![if !vml]>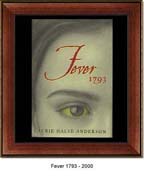 <![endif]>            FEVER 1793 BY Laurie Halse Anderson
"Where's Polly?"  I asked as I dropped the bucket down the well.  "Did you pass by the blacksmith's?
"I spoke with her mother, with Mistress Logan," Mother answered softly, looking at her neat rows of carrots.
"And?" I waved a mosquito away from my face.
"It happened quickly.  Polly sewed by candlelight after dinner.  Her mother repeated that over and over, 'she sewed by candlelight after dinner.'  And then she collapsed."
I released the handle and the bucket splashed a distant sound.
"Matilda, Polly's dead."
August 1793.  Fourteen-year-old Mattie Cook is ambitious, adventurous, and sick to death of listening to her mother.  Mattie has plans of her own.  She wants to turn Cook Coffeehouse into the finest business in Philadelphia, the capital of the new United States.
    But the waterfront is abuzz with reports of disease.  "Fever" spreads from the docks and creeps toward Mattie/s home, threatening everything she holds dear.
     As the cemeteries fill with fever victims, fear turns to panic, and thousands flee the city.  Then tragedy strikes the coffeehouse, and Mattie is trapped in a living nightmare.  Suddenly, her struggle to build a better life must give way to something even more important—the fight to stay alive.  (FIC AND    Historical)
<![if !vml]>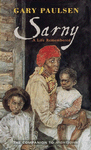 <![endif]>      SARNY BY Gary Paulsen
<![if !vml]>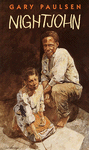 <![endif]>              NIGHTJOHN by Gary Paulsen
"To know things, for us to know things, is bad for them.  We get to wanting and when we get to wanting it's bad for them.  They thinks we want what they got….That's why they don't want us reading."  (Nightjohn)
"I didn't know what letters was, not what they meant, but I thought it might be something I wanted to know.  To learn."  Sarny
Sarny, a female slave at the Waller plantation, first sees Nightjohn when he is brought there with a rope around his neck, his body covered in scars. 
He had escaped north to freedom, but he came back—came back to teach reading.  Knowing that the penalty for reading is dismemberment Nightjohn still returned to teach others how to read.  And twelve-year-old Sarny is willing to take the risk to learn. 
(FIC PAU Historical)
<![if !vml]>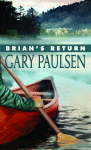 <![endif]>      BRIAN'S RETURN by Gary Paulsen 
(Fourth in the Brian Saga).  If you have read Hatchet, The River and Brian's Winter, you know that Brian Robeson survived alone in the wilderness by finding solutions to extraordinary challenges.  But now that he is back in civilization, Brian can't find a way to make sense of ordinary daily life.  He feels disconnected, more isolated than he did when he was alone in the North.  The only answer for his is to return to the woods, to "go back in," for only in the wilderness will he be able to find out where he really belongs. 
(FIC PAU   Adventure)
<![if !vml]>

<![endif]>      LOVELY BONES  by Alice Sebold
When we first meet 14-year-old Susie Solomon, she is already in heaven.  This was before milk carton photos and public service announcements, she tells us; back in 1973, when Susie mysteriously disappeared, people still believed these things didn't happen. 
In the sweet, untroubled voice of a precocious teenage girl, Susie relates the awful events of her death, and her own adjustment to the strange new place she finds herself.  (It looks a lot like her school playground, with the good kind of swing set.)
With love, longing, and a growing understanding, Susie watches her family as they cope with their grief—her father embarks on a search for the killer, her sister undertakes a feat of amazing daring, her little brother builds a fort in her honor—and they begin the difficult process of healing.    (FIC SEB   Family) 
                                   THE BLUFORD SERIES
<![if !vml]>
<![endif]>           LOST AND FOUND BY ANNE SCHRAFF
"Someone is stalking me!" 
Suddenly the door of the sedan opened.  The driver swung a leg out.  He was getting out
of the car!  Darcy looked around at the empty street.  Maybe she should just take off running. But what if he chased her?  What if he had a gun and shot her while she ran? She could not out run a bullet!
Darcy Wills is in big trouble and she does not know where to turn for help.  First, there was a mysterious stranger who started following her.  Then there was the threatening note left on her desk at Bluford High School and then her sister disappeared. (FIC SCH)
<![if !vml]>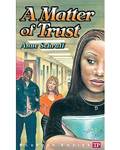 <![endif]>     A MATTER OF TRUST Anne Schraff
"Darcy," Brisana spoke in a mocking voice, "are you jealous?"
"Jealous" Darcy exclaimed, her pulse pounding in her neck.  "It is obvious that you are," Brisana snapped.   "And why wouldn't you be?  You can't even hold onto the one boy who ever paid any attention to you…"
In grade school, Darcy and Brisana were friends.  But all that changed at Bluford High when Darcy started hanging with "the zeros"—a group of students Brisana dislikes.  Now the former friends are bitter rivals.  And now Brisana is after Darcy's boyfriend Hakeem—what can she do?  (FIC SCH)
<![if !vml]>
<![endif]>  SECRET IN THE SHADOWS BY Anne Schraff
"We gotta dig him up."  Cooper said. 
"Coop, there's no way I can do that," Roylin groaned.
"You have to!" he insisted. "And whatever happens, we gotta go to the cops."
"Cooper, we can't!"
Roylin Bailey is living a nightmare—and it's all his fault. It started when the new student Korie Archer, arrived in his history class.  She was the most beautiful girl he had ever seen, and unlike most people at Bluford High, she seemed to like him. 
But when Roylin tried to impress her, he makes a terrible mistake.  Now one of his friends is gone and someone is out to destroy him. (FIC SCH)
<![if !vml]>
<![endif]>THE GUN  by Paul Langan
At once, the four boys closed in, cautious to avoid Tyray's good hand.  As they circled, they snickered with excitement, unnerving Tyray.  If they had been ganging up on him with anger, it might have been easier to bear, but they did not even respect him enough to take him seriously.  He had become a joke, a fool.  He had become a nothing. 
Tyray wants revenge.  Weeks ago he was one of the most feared students—but Darrell Mercer publicly humiliated him, and Tyray lost his reputation.  To get it back he must take down Darrell.  But how?  When the kids he once bullied start threatening him, his world completely unravels.  Desperate to settle the score and regain respect, Tray sees only one solution—a gun.  (FIC LAN)
<![if !vml]>
<![endif]>       THE BULLY BY PAUL LANGAN
Tyray whipped out a knife and held it up to Darrell's face:  "Oh no" Darrell thought, he's gonna kill me right here.  This is the end.  I've been in California for three days, and I'm gonna die on the street. 
A new life.  A new school.  A new bully.  That's what Darrell Mercer faces when he and his mother move from Philadelphia to California.  After spending months living in fear,  Darrell is faced with a big decision.  He can either keep running from this bully—or find some way to fight back.  (FIC LAN)
<![if !vml]>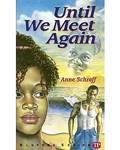 <![endif]>  UNTIL WE MEET AGAIN BY ANNE SCHRAFF
"I don't want to hear it, Darcy. What you did was stupid.  I'm so angry right now; I don't even want to look at you. Don't ask me to trust you again, not after this."  Her Father stormed off, and Darcy followed, tears streaming down her face.  She had never been in this much trouble.  And she had never felt more alone. 
Summer was supposed to be different.  With her school year over, Darcy Wells looked forward to the best time of her life.  But her plans are shattered by a series of unexpected events.  (FIC SCH)
<![if !vml]>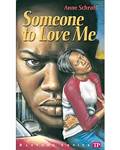 <![endif]>SOMEONE TO LOVE ME by Anne Schraff
"What's that?"  Her mother asked, pointing to the bruises on Cindy's Wrist. 
"Nothing," Cindy answered quickly "I bumped myself on the closet."  Cindy moved her arm as she spike so her mother would not stare at her bruise.  There was no way she was going to tell her mother what Bobby did. 
At first, Bobby Wallace was everything Cindy Gibson hoped for he was friendly, seemingly mature, and handsome—the perfect escape from her problems in school and even bigger troubles at home.  But then, Bobby starts behaving strangely, and Cindy gets scared,. Hiding her concerns from her friends and her mother, Cindy soon finds herself in the worst trouble of her life.  (FIC SCH)
<![if !vml]>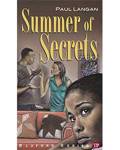 <![endif]>SUMMER OF SECRETS  BY Paul Langan
"Darcy, are you all right?  Your eyes…are you crying?
"No," she said firmly rubbing her eyes, feeling the moisture in her hands.  "I'm just tired, that's all. I need to go to bed."  Darcy left Jamie and headed to her own bedroom, dreading the night to come.  The panic and night sweats would be back.
   Darcy could feel them coming on like a bad fever. 
Darcy Wills needs help.  A frightening ordeal at the end of the school year has turned her world upside down.  And her parents, distracted by problems at home, don't seem to notice her troubles.  With her ex-boyfriend miles away in Detroit and her beloved grandmother gone, Darcy is more alone than ever.  (FIC LAN)
<![if !vml]>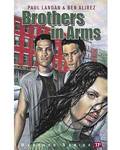 <![endif]> BROTHERS IN ARMS by Paul Langan
People were starting to gather around, but I blocked them out.  Huero was going to wake up.  He had to.  I touched his cheek.  He was still warm, and his skin was soft like when he was a baby.  But my fingers left smudges of blood on his face, and his body was limp.  "Wake up for your big brother."  I said "Wake up!"  A Woman screamed in the crowd behind me, and then I heard a voice: "Call an ambulance! That boy's been shot."
Martin Luna is in deep trouble.  And there is no easy way out. 
<![if !vml]>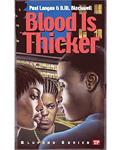 <![endif]>     BLOOD IS THICKER by Paul Langan
"Boy, you better shut your mouth!"  Savon exclaimed, moving his face inches from Hakeem's. 
"Oh, so now your'e gonna threaten me, right?"  Hakeem challenged, his frustration at the past month's events fueling his anger.  "You haven't done nothing except dis me since I got here.  Go ahead, hit me," he goaded, shoving Savon back away from his face. 
"That's it!" Savon barked, charging Hakeem like an enraged lion.
Hakeem can not take it any more.  First he learns that his father is sick and his parents can no longer afford their home.  He must leave his friends at Bluford and move to his uncle's house in faraway Detroit, where things just go from bad to worse.  (FIC LAN)